Product Overview
The STXD06CJH1AS Upblast Direct Drive Centrifugal Exhauster is UL705 Listed for general applications and NOT suitable for restaurant applications. It is a size 6 model, with a fan wheel of 6 inches in diameter. It features heavy duty construction and is rated for continuous use. The fan wheel is constructed for maximum efficiency featuring aluminum construction and a backward-inclined curved centrifugal wheel. It is dynamically balanced for long lasting, smooth operation. Model STXD exhausters are best suited of removal of dirty, contaminated and/or high temperature air. Ideal uses for the STXD exhausters include kitchen ventilation (sizes 6 - 8 are not restaurant suitable), fume and smoke removal as well as fume hood exhaust and chemical process exhaust.
The STXD06CJH1AS can be used in a ducted or non-ducted installation, either vertically through the roof or horizontally through a sidewall. These installation possibilities allow for shorter duct runs and therefore the exhauster can be installed near the area to be ventilated. The STXD06CJH1AS will produce 225 CFMs at zero static pressure.
A direct drive unit is quieter with smaller wheels and lower RPMs and are easier to maintain than belt driven units since they have no belt or fan bearings. The motor cover features quick release latches for convenient access to the motor for maintenance. It has a single speed open drip-proof motor. The housing includes stainless steel exterior fasteners and a disconnect.
S&P STXD model Upblast Direct Drive Centrifugal Exhausters with roof installation can be used to replace Greenheck CUE, Loren Cook ACRUD, Pennbarry FX, Carnes VUDK, Acme PDURF/PDURG and Fantech 5DDU models.
S&P STXD model Upblast Direct Drive Centrifugal Exhausters with sidewall installation can be used to replace Greenheck CW, Loren Cook ACWD, Pennbarry WFX, Carnes VWBK and, Acme PDU-WL models.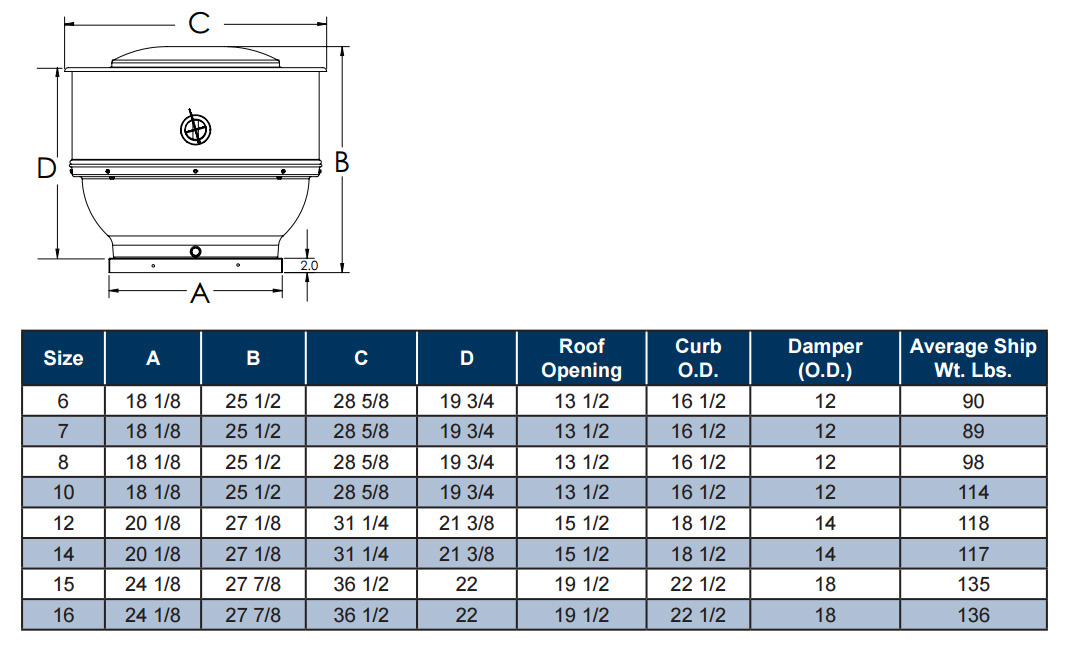 Tech Specs
Wheel Size (In.):
6
Horsepower (HP):
1/10
Max. BHP:
0.05
RPMs:
1650
Max. Static Pressure WG (In.):
3/4
Sones Level:
7.1 @ 1/8 SP
CFM @ Zero Static Pressure:
225
Installation:
Both Roof and Sidewall
Type of Drive:
Direct Drive
Roof Opening (In.):
13.5
Voltage:
110-120V
Certifications:
AMCA Air and Sound Licensed, UL 705 Listed
California residents see Prop 65 WARNINGS
WARNING!
Warning: Cancer and Reproductive Harm - www.p65warnings.ca.gov
Product Warranty
5 Year Limited Warranty, 1 Year Motor Warranty