Product Overview
Boasting the highest efficiency rating in its class, the UltraSaver90 Plus vented wall furnace by Empire Comfort Systems is an easy, convenient, and sustainable way to heat any indoor space. While other indoor heating units generally feature up to a 70- or 80-percent efficiency rating,
the UltraSaver90 Plus turns an incredible 92-percent of fuel into heat
, allowing you to enjoy a warm, comfortable living space with lower fuel and energy costs.
The UltraSaver90 Plus offers you installation options. It ships standard for B-Vent single flue installation but can be easily converted to a direct vent system with the addition of the PVSA1 Air Pipe Kit. This kit allows your single flue installation to be converted to direct vent.
This unit works with most programmable thermostats, while its sleek design and quiet operation make it suitable for installation in virtually any room. Other features include a Cool-Touch cabinet to prevent accidental burns, a simple control system that is easy to learn and easy to use, and a high-altitude capability for use where temperatures tend to drop the lowest.
Inside the UltraSaver90Plus: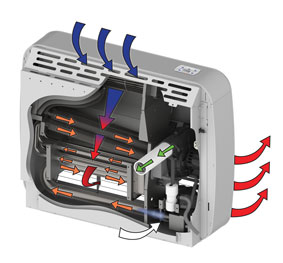 Creating Heat - The power-vent blower draws in an ideal charge of air (White Arrow) to support combustion.
The high-efficient in-shot burners generate the heat (Orange Arrows). (Two burners in the PV35 and one in the PV18). The two-stage heat exchanger consists of a large-diameter tube and multiple small-diameter stainless steel finned tubes. Each transfers progressively more heat.
Cooled exhaust exists the heater via PVC (or Empire approved Poly vent pipe) at 110 to 120 degrees F (Green Arrows).
Circulating Heat - The blower pulls room air (Blue Arrows) into the top of the heater and forces it across the heat exchanger. The warm air (Red Arrows) exists through the bottom louvers at the front of the heater.
This wall furnace is perfect for many applications including, but not limited to sunrooms, basements, and additions. Additionally, this high efficiency heater can be used in multifamily housing, assisted living facilities, nursing homes, and even condos. It is even approved for use in manufactured and mobile homes.
Vents with low-cost PVC or PolyPro venting
Works with most programmable thermostats
Whisper quiet operation
92% AFUE Efficiency
In addition to its high efficiency and multiple installation applications, the PVS35 can be used in high altitude areas as well. It is able to be used at altitudes up to 10,000 feet without any additional kits!
This unit is available in
Natural Gas (PVS35N)
or
Liquid Propane (PVS35L)
installations.

This heater MUST be installed by a licensed technician.
Tech Specs
Heating BTUs:

35000

Type of Venting:

B-Vent (Direct Vent Option)

AFUE Efficiency %:

92%

Mounting:

Wall

AFUE Efficiency:

92

Blower:

Included

CFMs:

420

Vent Connection Size (in.):

2

Gas Connection Size:

1/2"

Ignition Type:

Electronic Ignition

Clearance Top to Ceiling (in.):

12

Clearance Access Door Side:

8

Width (in.):

36.125

Depth (in.):

13

Height (in.):

27.875

Net Weight (lbs.):

128

Parts Warranty:

5 Years

Labor Warranty:

2 Years

Combustion Chamber Warranty:

10 Year
California residents see Prop 65 WARNINGS
WARNING!
Warning: Cancer and Reproductive Harm - www.p65warnings.ca.gov