Product Overview
THIS IS THE INDOOR UNIT ONLY. IT IS AVAILABLE AS A SINGLE ZONE SYSTEM (DAIKIN-9-1514709) (INCLUDING THE INDOOR AND OUTDOOR UNITS). IT CAN ALSO BE USED AS PART OF ANY DAIKIN MULTI-ZONE SYSTEM.
This is the indoor unit only. It must be used with a compatible outdoor condenser.
The Vista Ceiling Cassette is concealed by a 2 x 2 foot decorative cover (BYFQ60C2W1W included) that blends well with any decor. In a drop ceiling, it occupies a single ceiling tile with no overlap. The decorative panel is a required option as the controls for your system are built into the cover. The FFQ09W2VJU9 is a 9000 BTU unit. It is just one of four sizes of ceiling cassette units available for use with specific Daikin single and multi zone systems.
The Ceiling Cassette is offered in 4 sizes to easily accommodate each rooms unique heating and cooling size requirement: FFQ09W2VJU9 (9,000 BTUs), FFQ12W2VJU9 (12,000 BTUs), FFQ15W2VJU9 (15,000 BTUs) and FFQ18W2VJU9 (18,000 BTUs).
Features of the Ceiling Cassette include:
Decorative Cover (BYFQ60C2W1W) included
Efficient airflow distribution - 2, 3, or 4-way airflow, auto-swing up and down
Individual flap control (with wired controller)
Draft prevention
Automatic defrost
Fan only
Seamless architectural design with the ability to sit flush into ceilings

Hot Start:

When the heating operation starts or when the unit changes from cooling to heating, there is no cold draft released into the room.

Mold Proof Air Filter:

The pre-filter net is impregnated with a safe, colorless and odorless mold preventative. This renders the filter virtually immune to mold.

Auto Restart Operation:

The unit memorizes the operation mode, airflow and temperature settings. Should there be a power failure when the unit is in operation, it will automatically return to the same operating conditions when the power is restored

24 Hour On/Off Timer:

The timer can be pre-set to start and stop the unit any time within a 24-hour period. Once the times are set, the unit can be operated for a period by simply pressing the ON or OFF timer buttons.
Vertical Auto Swing

Program Dry Function

- This gives priority to reducing the level of humidity in the room rather that room temperature.

Automatic Operation

- For unattended year-round comfort, this function allows the unit to automatically switch between heating and cooling modes as required.
Indoor Unit On/Off Timer (with controller)
Self Diagnosis with Digital Display
The ceiling cassette
does not include a remote
but offers two possibilities (sold separately). The
BRC1E73
- a wall mounted, wired navigation controller - ideal for hotel as well as residential applications (Optional
BRYQ60A2W
matching Presence and Floor Sensor Kit) and the
BRC082A42W
- an infrared remote controller with white matching sensor for decor panel.
All Technical specs are subject to change. Item may differ in appearance from photo above.

The Ceiling Cassette offers a variety of installation options with regard to room needs and placement: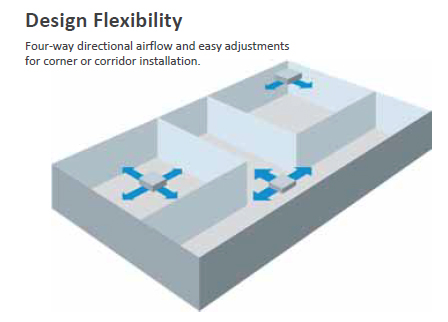 In addition to Single Zone use this indoor can also be used with any Daikin Multi-Zone System outdoor unit.
Aurora Multi Zone Outdoor Units (Heating range: -13°F - 60°F / Cooling range: 14°F - 115°F):
MXS Series Multi Zone Outdoor Units

(

Heating range: -5°F - 60°F / Cooling range: 14°F - 115°F):
Because of the complexity of the components required for the
Daikin 5MXS48WVJU (up to 5 indoor units allowable) and RMXS48LVJU Multi-Zone Systems (up to 8 indoor units allowable),
please contact us. They will make certain you have everything you need for installation of your system.
Parts Warranty:
5 Years Limited Warranty if unit is
not
registered / 12 Years Limited Warranty if unit is properly registered online.

The Daikin Multi-Zone System must be installed by a qualified, licensed HVAC technician. Manufacturer covers parts only under warranty. Installer is responsible for labor warranty.
Tech Specs
Indoor Unit Type:
Ceiling Cassette (Grille Included)
Performance Data
Cooling BTUs:
9000
Cooling BTU Output Range:
4600 - 11000
Includes Heat Pump:
Yes
Heat Pump BTUs:
10000
Heating BTU Output Range:
4600 - 14000
System Data
Dehumidification (pts/hr):
NA
Fan Speeds:
3
CFMs:
268 / 339 / 378 (L / M / H)
Min. Indoor Noise Level (dBA):
29
Indoor Noise Level (dBA):
29 / 35 / 38 (L / M / H)
Features
Control Type:
Controller Required (NOT INCLUDED)
Connectivity:
Not WiFi Compatible
Wired Thermostat Optional:
Yes
Piping / Line Set Requirements
Line Set Liquid Line:
1/4"
Line Set Suction Line:
3/8"
Max. Pipe Length (ft.):
32.8
Max. Height Difference (Indoor / Outdoor) (ft.):
65.6
Weights and Dimensions
Width (in.):
22.625
Depth (in.):
22.625
Height (in.):
10.25
Weight (lbs.):
36
California residents see Prop 65 WARNINGS
WARNING!
Warning: Cancer and Reproductive Harm - www.p65warnings.ca.gov
Product Warranty
Parts: 5 Years Limited Warranty if unit is not registered / 12 Years Limited Warranty if unit is properly registered online.
Labor: None
The warranty for this unit is for parts only, and does not cover labor or diagnostic services. Total Home Supply will handle all warranty parts requests for any mini split purchased from us, but installation and all troubleshooting for this unit must be performed by a licensed HVAC technician. Any fees the technician may charge are not reimbursable by the manufacturer or by Total Home Supply. Please call 877-847-0050 for more details or with any questions you may have regarding warranty information and installation of this unit.