Product Overview
Base Price shown is for outdoor unit only. You can choose up to 3 indoor units below with a total connected capacity of 39,000 BTUs. The price displayed will update based on your selections. If you need help configuring a system, please contact us.
Get a total comfort solution for your entire home or business!
The Daikin Aurora Series is a perfect multi-zone mini split system for cold weather climates. It features a heating operating range of -13°F up to 60°F and cooling range from 14°F to 115°F (with optional drain pan heater). These expanded temperature ranges help to make this tri-zone system a great solution as a primary heating and cooling source almost anywhere in the USA. It is also compatible with the Daikin Cloud WiFi Adaptor (not compatible with FDMQ or Vista indoor units) for complete comfort control from anywhere with your tablet or smart phone!
A mini split system is an excellent way to add air conditioning to separate areas of your home or office. Whether you have just added an additional room or don't have central air, with the 3MXL24RMVJUA Aurora Series with Enhanced Capacity Mini Split System you can heat and cool up to three separate areas of your home or light commercial space at one time. Simply choose two or three indoor units based on your individual needs and before you know it, you will have cooling and heating in your space when and where you want it.
The MXL Aurora Series system, with inverter technology, works with CTXS and FTXS Standard Wall units, the Emura Series Wall units FTXR, the Vista Series FFQ Ceiling Cassette units, FDXS Concealed Duct units, and FVXS Floor units. Depending on the indoor units you choose, with the 3MXL24RMVJUA outdoor unit you will be able to achieve energy efficiency levels of up to 18.0 SEER, 12.7 EER, and 12.5 HSPF. Comfort control with added savings! When connected to all non-ducted units, the Aurora MXL Series is also Energy Star Rated.

With Daikin's new enhanced capacity Tri-Zone solution, any three rooms can be controlled individually. It also offers up to 100% Heating Capacity with temperatures as low as 5°F and 100% Cooling Capacity when it is as hot as 104°F. The 3MXL24RMVJUA Tri-Zone is rated for 24,000 BTU Cooling Capacity and must be connected to a minimum of two and a maximum of three indoor units. The combined BTU ratings of the units chosen can total up to a maximum connected BTU rating of 39,000 BTUs.
The Daikin 3MXL24RMVJUA incorporates technology which allows you to connect higher BTU indoor units than its 24,000 BTU capacity. This will allow you to address higher load needs that are used at different times such as living spaces and sleeping spaces. Based on the square footage of the rooms you are conditioning, you may need a 15,000 BTU unit for your living room, a 9,000 BTU unit for your bedroom and a 15,000 BTU unit for the rec room in the basement. With the Aurora Series, you can connect all of these to the 24,000 BTU 3MXL24RMVJUA outdoor unit. The system will allocate the required BTUs needed in each area up to the total of 24,000 BTUs. Let's say you need to condition the rec room during the day. No one will be in the living room or the bedroom at this time so you have these zones shut off. When you turn on the system in the living room, the Daikin technology will supply the required BTUs to the living space up to the maximum output of the 15,000 BTU indoor living room unit. A short while later you decide to get the bedroom ready so you turn on the bedroom zone. The system will distribute power to the zones as needed. If all three zones need full power, then each zone will split the 24,000 BTU respectively, based on each unit's own capacity. For example, the 9,000 BTU unit will use approximately 6,000 BTUs while each of the 15,000 BTU units will use approximately 9,000 BTUs per zone. If one zone needs more or is shut off, the system will adjust accordingly.
The 3MXL24RMVJUA Aurora Series outdoor inverter "variable speed" compressor features a space-saving design and quiet operation. With Reactive Temperature Monitoring, once you set your temperature, the system will automatically adjust output according to the condition requirements. It uses R410A refrigerant, the industry standard. It also includes anti-corrosion treatment of the outdoor Heat Exchanger Fin.
Daikin offers great variety and configurability in your selection of the two or three indoor units required for this system. All indoor units offer a variety of fan speed options and auto restart operation. You can use the drop-down boxes above to customize your system. If you need further guidance with your decision or if you have any configuration questions, our sales staff would be happy to help you. Contact us for expert advice.
Indoor Unit Options
Indoor Wall Units (CTXS07LVJU, FTXS09LVJU, FTXS12LVJU, FTXS15LVJU, FTXS18LVJU) - Each indoor wall unit comes in a white finish and will fit flawlessly into any room decor. It can be installed on an interior or exterior wall and is connected to the outdoor compressor through a small opening in your wall, drilled behind the unit. The line set and wire (required, sold separately) are sent through the opening and connect to the compressor outside. A wireless remote is included for convenient operation from anywhere in the room. Available in 7,000, 9,000, 12,000, 15,000, and 18,000 BTUs.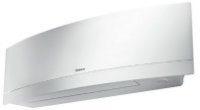 Emura Indoor Wall Units (in White) (FTXR09TVJUW, FTXR12TVJUW, FTXR18TVJUW) - The Emura wall unit offers an updated, unique shape and will add a modern flare to any decor, while still blending quietly into any room. Like the standard wall unit, it is installed high on a wall and connects to the outdoor compressor through a small opening drilled in your wall, behind the unit. The line set and wire (required, sold separately) connect to the compressor outside through this opening. A wireless remote is included for convenient operation anywhere in the room. Available in 9,000, 12,000 and 18,000 BTUs. This unit is also available in Silver. Please call for pricing and availability.
Vista Ceiling Cassette Units (FFQ09Q2VJU, FFQ12Q2VJU, FFQ15Q2VJU, FFQ18Q2VJU) - The Vista Ceiling Cassette is a beautiful addition to the Daikin Line. The 2' X 2' Decorative Cover is included (BYFQ60C2WIW). It can be installed In a regular ceiling or a drop ceiling. In a drop ceiling, it will only occupy a single ceiling tile. Installation flexibility gives you the option of two, three or four way airflow. From the ceiling, it connects to the outdoor compressor through a small opening drilled in your wall. The line set and wire are required and sold separately. Additionally, no remote is included with this item but a wall mounted thermostat (BRC1E73) as well as an infrared remote (BRC082A42W) are available. 9,000, 12,000, 15,000 or 18,000 BTUs units are available.
Concealed Ducted Units Ducted Ceiling units are installed in a ceiling and hidden from view and require ducting as well as registers. The placement of the registers allows the conditioned air to be dispersed into the space where you need it. Depending on the size and shape of your space, a concealed unit can be ducted for multiple rooms or one single room. The FDMQ Series allows for higher external static pressure capabilities of up to 0.6. This allows for longer duct runs as well as the ability to easily implement high MERV filters. The FDMQ units take up a bit more vertical space in the ceiling at almost 10" high. These units include FDMQ09RVJU, FDMQ12RVJU, FDMQ15RVJU, FDMQ18RVJU.
Regardless of the Concealed Duct unit you choose, a wireless remote is included with each. The units are available in BTUs that include 7,000, 9,000, 12,000, 15,000 and 18,000 BTU units.
Floor Standing Units (FVXS09NVJU, FVXS12NVJU, FVXS15NVJU, FVXS18NVJU) - A floor standing unit is a great option for a built in solution that provides heat at the floor level. It installs flush or recessed on the wall and is perfect for spaces that lack upper wall space. The unit itself measures about 27.5"W x 23.6"H x 8.25"D and is available in 9,000, 12,000, 15,000 and 18,000 BTUs.
---
Line Sets
Mini Split Line Sets - Line sets are a requirement when installing a mini split system. They are the connection between the outdoor unit and the indoor units of your system. Every indoor unit needs to be connected directly to the outdoor unit with its own line set. Most Mini Split Line Sets come with flared connectors attached and are ready to install. Our line sets are offered with and without control wire and are available in various connection sizes and lengths to meet your installation needs. The line set shown in the photo does not include the control wire.
---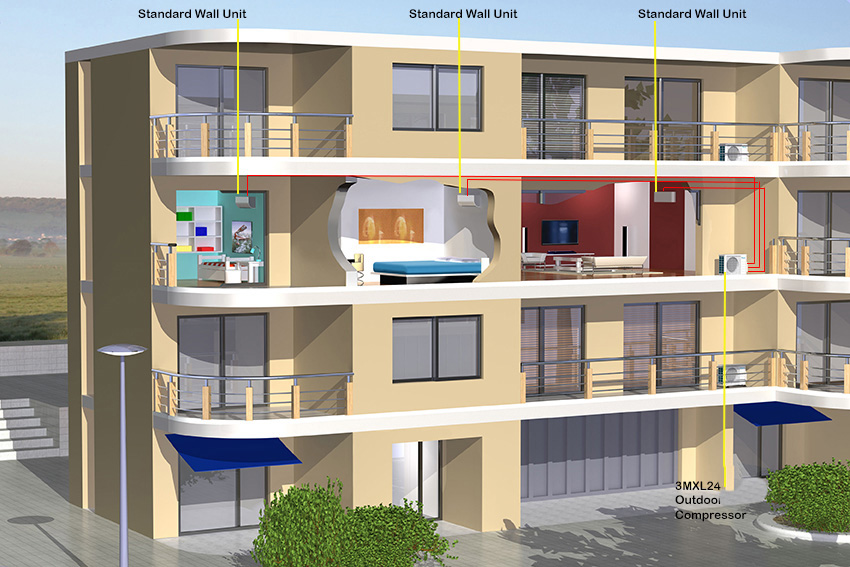 The 3MXL24RMVJUA can be used with 3 indoor units. Above, is an example of a three zone layout in a multi-family dwelling.
Why Total Home Supply?
We are an Authorized Online Distributor for Daikin. Whether you have pre-sales questions or you need support after your order, we are here for you.
This unit must be installed by a qualified licensed HVAC technician.
This item replaces the 3MXL24QMVJU unit.
Tech Specs
Number of Zones:
2 - 3
Maximum Number of Indoor Units:
3
EER (Non-Ducted / Ducted / Mixed Units):
12.7 / 9.9 / 11.3
SEER (Non-Ducted / Ducted / Mixed Units):
18.0 / 14.0 / 15.95
Energy Star:
Yes
Cooling Amps:
19.5
Cooling BTUs:
24000
Includes Heat Pump:
Yes
Heat Pump BTUs:
24000
HSPF (Non-Ducted / Ducted / Mixed Units):
12.5 / 8.2 / 10.35
Outdoor Unit Noise Level (dBA):
52
Voltage:
208-230V
Circuit Breaker Size (Amps):
20
Operating Range - Cooling:
14°F - 115°F
Operating Range - Heating:
-13°F - 60°F
Min. Outdoor Temp for Heat °F:
-13
Inverter Technology:
Yes
Pipe Length (No Addl Refr Req):
131.2
Max. Pipe Length/Zone (ft.):
82
Outdoor Unit Width (in.):
34.25
Outdoor Unit Depth (in.):
12.625
Outdoor Unit Height (in.):
28.938
Outdoor Unit Weight (lbs.):
140
Parts Warranty:
12 Years
Compressor Warranty:
12 Years
Labor Warranty:
None
Max. Connected Outdoor BTU Capacity:
39000
California residents see Prop 65 WARNINGS
WARNING!
Warning: Cancer and Reproductive Harm - www.p65warnings.ca.gov
Product Warranty
Warranty Information
Parts: 5 Years Limited Warranty if unit is not registered / 12 Years Limited Warranty if unit is properly registered online.
Compressor: 5 Years Limited Warranty if unit is not registered / 12 Years Limited Warranty if unit is properly registered online.
Labor: None
The warranty for this unit is for parts only, and does not cover labor or diagnostic services. Total Home Supply will handle all warranty parts requests for any mini split purchased from us, but installation and all troubleshooting for this unit must be performed by a licensed HVAC technician. Any fees the technician may charge are not reimbursable by the manufacturer or by Total Home Supply. Please call 877-847-0050 for more details or with any questions you may have regarding warranty information and installation of this unit.