Product Overview
Base Price shown is for FIREBOX ONLY. A Firebox Liner, Burner and Log Set are all required. Decorative Accessories are not required but available! The price displayed will update based on your selections. If you need help designing your firebox, please contact us.
A Deluxe 32 Breckenridge vent free firebox will add a beautiful focal point and supplemental heat to your den (or almost any other space). A vent-free firebox can be installed into a pre-existing masonry fireplace or, because no venting is required, you can add a mantel cabinet (sold separately) almost anywhere. As long as there is a gas line, this firebox can ease your back! No wood to lug and no ash to clean up - just clean, warm air. Once installed it is as easy as pushing a button.
The Breckenridge Deluxe 32 is the perfect vent-free firebox for tighter spaces. This firebox features a flush/radiant face.
Please be advised, this is only the firebox. Required
items for this firebox include a
log set and burner system
, and a liner (sold separately). An optional blower is also available and sold separately. You can further customize your look with a variety of accessories. Create the look that is right for you and your home.
Total Home Supply has a full array of options and accessories for the Breckenridge Deluxe 32 Firebox including brick liners, mantel cabinets, louvers in different patterns and finishes, as well as doors and frames in matching designs and finishes.
The Breckenridge Deluxe 32" Vent Free Firebox will accept any certified vent-free
burner and log set
. It is also zero clearance certified.
The firebox shown in the photo is a Breckenridge Flush Face Firebox. Neither the Charred Oak Log set nor Traditional Brick Liner shown in the firebox are included but can be purchased separately.
This item is the firebox ONLY.
A Liner, Log Set and Burner are Required for this firebox (sold separately). For this 32" firebox, an 18" burner and corresponding log set is recommended. White Mountain Hearth offers several valves with their Slope Glaze Burners.
VFSR - Millivolt (Remote Available, Not Included) - Standing Pilot, On/Off Remote Ready, Manual Hi/Lo temperature regulator knob (Available Remotes / Thermostats sold separately).
VFSV - Variable Flame, Height Control (Includes Remote) - Standing pilot with four level flame height control.
VFSE - Intermittent Pilot (Programmable Remote Included) - Electronic Ignition with Remote Thermostat and Variable Flame Height Control
The VFSV (Variable) model is certified for installation in a vented fireplace. When installed in a vented application, it can only be used as a decorative gas appliance and cannot be operated with a remote. Your installer must block the fireplace damper partially open. A Damper Clamp is included for this purpose.
All other accessories such as a blower, doors and frames or mantel are optional and also sold separately.The Breckenridge Deluxe 32 Firebox is also available with a refractory brick liner included with your choice of
flush (VFD32FB2MF) or louvered face (VFD32FB2ML)
.
Available Firebox Liners for Breckenridge Deluxe 32 Firebox (1 is Required):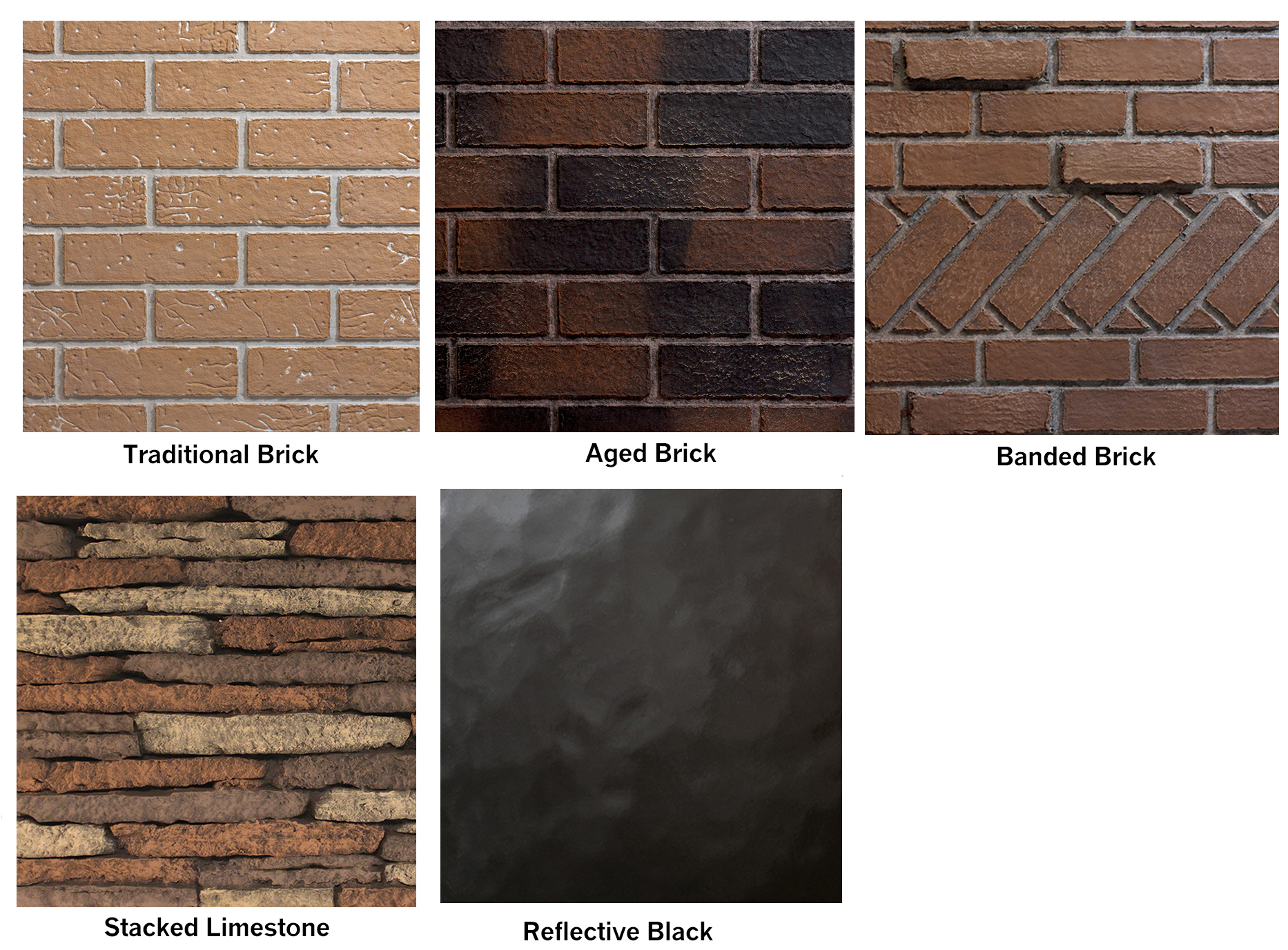 Below is an illustration of OPTIONAL Accessories available above: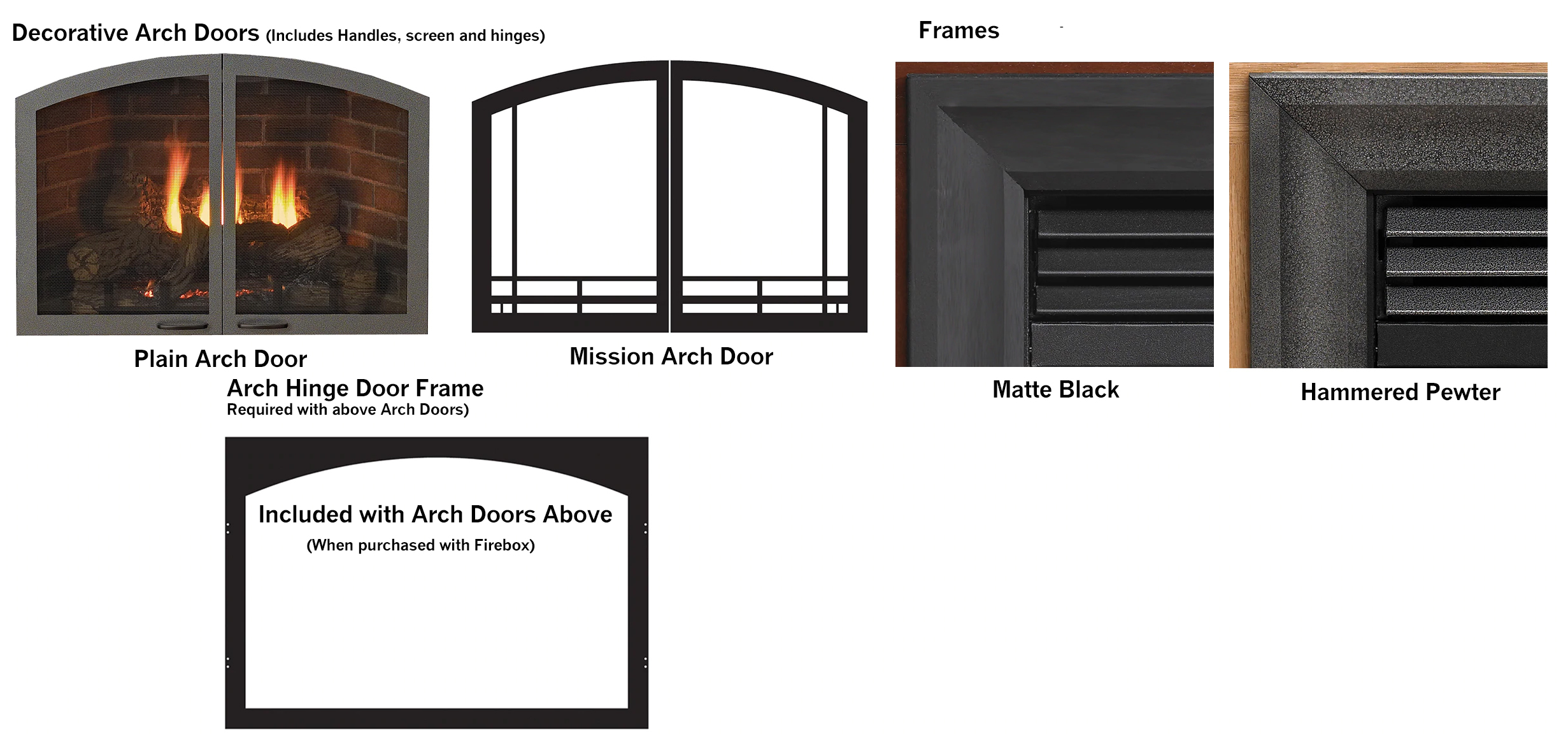 Vent-Free Products Cannot Be Shipped To The State Of California.
Tech Specs
Blower:
Optional
Face:
Flush Face
Nominal Firebox Size (in.):
32
Liner:
Required, Sold Separately
Installation Type:
Single Sided, Standard Insert
Inner Depth (without Brick) (in.):
14.125"
Inner Front Width (without Brick) (in.):
31"
Inner Rear Width (without Brick) (in.):
25.188"
Inner Front Height (without Brick) (in.):
22"
Inner Rear Height (without Brick) (in.):
18.688"
Inner Depth (with Brick) (in.):
13.313"
Inner Front Width (with Brick) (in.):
29.313"
Inner Rear Width (with Brick) (in.):
24"
Inner Front Height (with Brick) (in.):
22"
Inner Rear Height (with Brick) (in.):
18.688"
Outer Depth (in.):
16.5"
Outer Width (in.):
35"
Outer Height (in.):
33"
Framing Depth (in.):
16.25"
Framing Width (in.):
35.5"
Framing Height (in.):
33.75"
California residents see Prop 65 WARNINGS
WARNING!
Warning: Cancer and Reproductive Harm - www.p65warnings.ca.gov