Product Overview
This combination pack includes both the Refco 525F 45° Flaring Tool and the RS25 Tube Cutter. You can now customize your HVAC installations with the ability to flare and burnish lines as well as cut your copper tubing to any size.
The Refco 525-F 45° Flaring Tool also burnishes your copper tubing to a clean, easy to use end (end surface must be oiled when flaring). This flaring tool allows you to flare the ends of your line yourself. The finished end is a 45° faceted cone. Its single-hole adjustable opening can be used for all sizes, including both metric (4.75 - 16mm) and inches (3/16" - 5/8").
Outer dimension metric sizes (mm) include 4.75, 6, 8, 10, 12,15 and 16. US sizes (inch) include 3/16", 1/4", 5/16", 3/8" , 1/2" and 5/8". It is applicable for all tubes.
Using the 525-F is easy. The yoke is removed to insert the tube into the adjustable opening in the tube-holding assembly. With about 1/8" coming through, tighten the clamp to secure the tube, and slip the yoke back over the tube-holding assembly. Twist to lock and flare.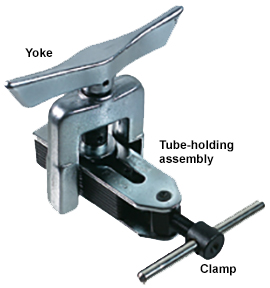 The result is a perfect 45° flare.
The Refco RS-25 tube cutter is perfect for cutting copper tubing. Refco tube cutters allow you to custom cut your copper tubing precisely. The RS-25 features an easy turning adjustable knob and will cut copper tubing from as small as 1/8" O.D. up to 1" O.D. Refco tube cutters feature a four roller tracking system to keep your tube from threading. A full-stop feed system keeps the wheels and rollers separate. Refco tube cutters are quality and heavy duty and include a spare cutting wheel.
Custom cut your copper tubing as needed. It is conveniently sized to go with you to any job.
Tech Specs
California residents see Prop 65 WARNINGS
WARNING!
Warning: Cancer and Reproductive Harm - www.p65warnings.ca.gov