The Ouellet commercial unit heater is an electric heater, designed for larger commercial, industrial and institutional spaces. It features a draw-through design to pull air in from the top and sides and discharge out the front through the egg-crate discharge air diffuser. The discharge air diffuser features adjustable louvers and a non-intrusive, almond color appearance.
Because of its unique flow-through air design and cabinet shape, including angled corners, there is maximum free air flow in the unit. The intake area is larger than the discharge area, making the intake air move more slowly than the discharge air. Inside the cabinet, the motor is fully enclosed and thermally protected, shielding it from the heating elements. Also included is a fan delay that purges the residual heat to help maintain a longer life for your unit heater.
The unique egg-crate design allows you to direct the heated air exactly where you need it and also helps to eliminate any accidental contact with the fan inside the cabinet. The louvers are individually adjustable and bendable to meet your specific application needs.
This unit is available with various Electrical Requirements:
208 Volt 1-Phase; field convertible to 3-phase unit (OHVU07508-24)
240/208 Volt 1-Phase; convertible to 3-phase unit (OHVU07500-24)*
277 Volt 1-Phase only (OHVU07577-24)
480 Volt 3- Phase only (OHVU07534-24)
*240 Volt units will operate at 208V with a 25% wattage reduction.
Model
Volts
Phase*
Control
Voltage
BTU/hr
CFM
Temperature
Rise (°F)
Motor HP
Motor RPM

OHVU07508-24

208
1 / 3
24
25590
600
40
1/33
1490

OHVU07500-24

240 / 208
1 / 3
24
25590/ 19200
625
38
1/33
1550

OHVU07577-24

277
1
24
25590
625
38
1/33
1550

OHVU07534-24

480
3
24
25590
625
38
1/33
1550
*Phase 1 / 3 indicates unit is field convertible from 1-Phase to 3-Phase.
*240 Volt units will operate at 208V with a 25% wattage reduction
The cabinet is constructed of 18 and 20 gauge steel and finished with a powder coat paint for a longer life. Included with your electric heater are two brackets. The wall mount bracket and the ceiling bracket give you the choice of horizontal mounting on the wall or ceiling. Vertical mounting is also possible for this unit heater. You will need to provide threaded rods for the four weld nuts on the back of the heater.
Installation options: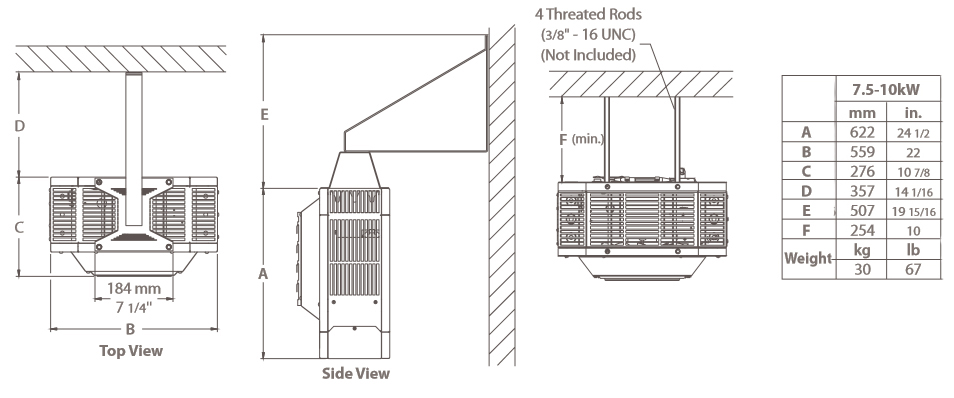 Style:

Ceiling or Wall Mount

Fuel Type:

Electric

Heating BTUs:

25590

Kilowatts (kW):

7.5

Control Voltage:

24V

Horsepower (HP):

1/33

Height (in.):

24.5

Width (in.):

22

Depth (in.):

10.875

Warranty:

5 Year Limited

Net Weight (lbs.):

67
5 Year Limited