Product Overview
A number of burner and log set combinations are currently on backorder. Please

contact us

to check availability for the combination you are interested in.
Monessen Stony Creek Refractory Cement Log Set offers fine detail and hand-painted beauty on each of the 7 logs. This package includes your choice of log set size, fuel type and the burner. Stony Creek Logs are available in 18", 24", and 30". The 24" and 30" log sets each use the Monessen Natural Blaze 24" burner.
Natural Blaze burners include Natural Blaze Technology which provides taller, more lively flames for a truly realistic fire in your vent-free firebox. Beautiful yellow flames are instantly achieved every time your burner is switched on. Vent Free Natural Blaze Burners for use with the Stony Creek log set include:
Millivolt Valve (NB*PV or NB*NV) - standing pilot with on/off switch and manual variable flame height control and remote ready (remote sold separately)
Electronic Ignition with Intellifire Plus System (NB*PIF or NB*NIF) - intermittent pilot/electronic ignition, 3 step flame adjustment and Touch Screen Thermostat Remote included
The Stony Creek log set creates a realistic looking
stack of hand painted pieces including pieces with and without bark and featuring both charred and rounded ends. The seven pieces together create an authentic looking fire with fine detail and high definition, mimicking the natural look of real wood. The Stony Creek log set is a beautiful log set that stacks nicely on the Natural Blaze
. As with all Monessen logs, the Stony Creek Refractory log set is created directly from authentic pieces of wood found in nature and hand painted to perfection. The appearance of the Stony Creek log set in your fireplace will add a bold wood burning fire look to your firebox.
The logs are carefully crafted to provide you with a realistic looking fire and burn pattern with flickering flames coming up through the stack. Unlike a wood fire the vent-free logs generate consistent, controlled heat without flare-ups or die-downs.
Vent Free
11 Log set is hand painted

An additional 2 piece Log Enhancement Kit (

SC18EK - for 18" log sets or SC2430EK - for 24" and 30" log sets

, sold separately) including two additional top log pieces only adds to the grandeur of this impressive log set (the addition of this Enhancement Kit is shown in the secondary photo)

Choose from natural gas or liquid propane burners
Firebox requirements for the Natural Blaze Burners: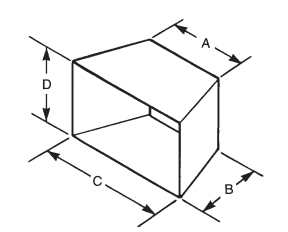 BTUs (Min./Max.)

Req. Min. Rear Width (in.) (A)

Req. Min. Depth (in.) (B)

Req. Min. Front Width (in.) (C)

Req. Min. Height (in.) (D)

18" Natural Blaze Burners:
Millivolt (NB18NV/NB18PV):
28,000 NG / 27,000 LP
18"
13"
26"
17"

Intermittent Pilot (

NB18NIF/NB18PIF):

28,000 NG / 27,000 LP

20-1/4"
13"
28-1/2"
17"
24" Natural Blaze Burners:
24" NATURAL BLAZE BURNER IS FOR USE WITH 24" AND 30" LOG SETS


Millivolt (NB24NV/

NB24PV):

37,000 NG / 36,000 LP
22-1/4"
13"
29"
17"

Intermittent Pilot (NB24NIF/NB24PIF):

37,000 NG / 36,000 LP

25-1/4"
13"
31"
17"
Vent-Free Products Cannot Be Shipped To The State Of California.
Tech Specs
Fireplace Style:
Single Sided
Log Style:
Stony Creek
Size of Log Set (in.):
18"
Size of Log Set (in.):
24"
Size of Log Set (in.):
30"
California residents see Prop 65 WARNINGS
WARNING!
Warning: Cancer and Reproductive Harm - www.p65warnings.ca.gov