Product Overview
FOR COMMERCIAL USE ONLY - 460 VOLTS
The Phantom 12 Series (PH12) of Mars Air Doors offers a variety of lengths to provide an environmental barrier to your space of up to 16 feet, while protecting your space from insects up to 14 feet. The PH12 is recessed into the ceiling, blending in to its surroundings while still offering performance and protection to your space.
This unheated, 460/3/60 volt, air door features two 1 horsepower motors and a 15 1/2" depth. It is typically is recessed into the ceiling for a pleasing, less conspicuous aesthetic in your space. It includes a washable polyester filter and features durable aluminum construction. A variety of lengths from 42" to 144" is available. The PH1296-2UH-PW unit is 96" long and includes two 1-hp motors. Some sample installation applications include shipping/receiving doors, customer entrances, cold storage rooms and many more. Ideal installation height is 10' - 12' for the PH12 series.
The PH12 air curtain offers a cost efficient barrier that will blend in to any environment. Its durable metal construction is finished in a powder-coated pearl white finish to meet your design aesthetics. Units 42" to 60" long feature a single motor, units 72" to 120" feature a 2- motor design, and 144" units have 4 motors. Units from 84" - 144" feature a two-piece design and are installed in tandem.
The profile of the PH12 is typically recessed into the ceiling with very little protruding from the ceiling.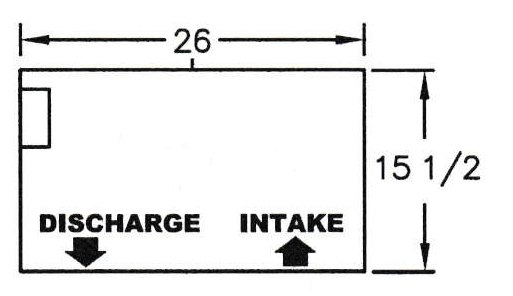 The chart below lays out all the optional lengths available for the PH12, 460/3/60 air curtain. The highlighted row is specific to this item. Simply choose your length based on your installation needs. A separate relay or relay with time delay is required to operate the PH12 air curtain.
Several door switches are available. The door switch automatically turns the unit on when the door opens and off when it closes. Plus, it will continue running for a configurable period of time. If choosing a door switch without a time delay, the options include an aluminum floor-mounted switch (99-124), and an aluminum surface-mounted switch (99-125) are also available and a control panel is required. Separate, externally mounted control panels are include the MCPB-1UH for single motor units (42" - 60"); MCPB-2UH for 2-motor units (72" - 120") AND MCPB-4UH FOR 144" unit (4 motors).
Model
Length
Motor/HP
Full Load
Amps
Sound
(dBA)
Max. Volume
(CFMs)
Uniformity
(%)
Power Rating
(Watts)
Weight
PH1242-1UH-PW
42"
1 Motor; 1 HP
1.6 amps
70
2471 CFM
90%
1260 watts
90 lbs
PH1248-1UH-PW
48"
1 Motor; 1 HP
1.6 amps
70
2534 CFM
89%
1345 watts
90 lbs
PH1260-1UH-PW
60"
1 Motor; 1 HP
1.6 amps
70
2759 CFM
86%
1535 watts
95 lbs
PH1272-2UH-PW+
72"
2 Motors; 1 HP each
3.2 amps
73
4646 CFM
93%
2316 watts
155 lbs
PH1284-2UH-PW*+
84"
2 Motors; 1 HP each
3.2 amps
73
4942 CFM
90%
2520 watts
175 lbs
PH1296-2UH-PW*+
96"
2 Motors; 1 HP each
3.2 amps
73
5068 CFM
89%
2690 watts
180 lbs
PH12120-2UH-PW*+
120"

2 Motors; 1 HP each

3.2 amps
75
5518 CFM
86%
3070 watts
270 lbs
PH12144-4UH-PW*+
144"

4 Motors; 1 HP each

6.4 amps
75
9292 CFM
93%
4632 watts
310 lbs
*PH12 84" - 144" ship as 2 pieces and are installed in tandem.
+PH12 REQUIRES AN EXTERNAL MOTOR CONTROL PANEL MCPB-1UH FOR SINGLE MOTOR UNITS, MCPB-2UH FOR 2-MOTOR UNITS AND MCPB-4UH FOR 4-MOTOR UNITS.
Tech Specs
Max. Door/Window Height (ft.):
16
Max. Height Insect Block (ft.):
14
Heat:
No
Horsepower:
1 (per motor)
Voltage:
460V
Depth (in.):
26
Height (in.):
17
Length (in.):
96
Certifications:
ETL Listed, AMCA
Parts Warranty:
5 Years
Product Type:
Unheated
California residents see Prop 65 WARNINGS
WARNING!
Warning: Cancer and Reproductive Harm - www.p65warnings.ca.gov