Product Overview
Is your hot water heater is more than 10 years old? It might be time to consider a new one. The lifespan of a conventional storage hot water heater is between 10 and 15 years. After all those years of service, sediment build-up and corrosion inside the tank can take their toll.
The Bradford White RG150T6N is a 50 gallon, tall, hot water heater. It is a taller tank with a height of 60-1/8" from the floor to the Exhaust Connection with a jacket diameter of 20". The RG150T6N has 1" Non-CFC foam insulation and replace older units. It features an input of 34,000 BTUs. This hot water heater has a First Hour Rating or First Hour Delivery of 75 gallons.
Basically, the First Hour Rating means how much hot water the hot water heater can deliver in an hour of use, starting with a fully heated tank. It does not mean that the hot water will last for one hour. As the cold water enters the tank it is heated, the faster you use your hot water, the faster your water will become tepid and then cold. However, depending on your temperature set point and your household's water use you can calculate how much hot water you need during your busiest hour. As you use the water in the tank, it is continuously being replenished and heated.
The Uniform Energy Factor (UEF) is used to determine the energy efficiency of the hot water heater. Recover efficiency, stand-by loss and cycling loss are all included in the energy factor. Typically, the higher the energy factor, the more efficient the water heater. Cost of fuel however, will have an impact on annual operating costs. The Energy Factor (EF) for this unit is 0.63.
An example of a 81 gallon peak demand might look like this:
4 showers (10 x 4 = 40 gallons)
1 bath (15 x 1 = 15 gallons
2 shaves (2 x 2 = 4 gallons)
1 meal prep (4 x 1 = 4 gallons)
3 hand dishwashing (4 x 3 = 12 gallons)
1 dishwasher run (6 x 1 = 6 gallons)
This household would probably want a hot water heater with a first hour rating of between 79 and 83 gallons.
Another important feature when choosing a hot water heater is the Recovery Rise. A 90° recovery rise for this tank is about 37 gallons per hour. All Bradford White hot water heaters are NAECA Compliant.
The Bradford White
Defender Safety System
is designed to be the safest, most reliable flammable vapor ignition resistant system in the industry meeting all the requirements set forth by the American National Standards Institute (ANSI). The Defender Safety System features ScreenLok Technology flame arrestor. The louvered flame arrestor design increases the speed of incoming combustion air and creates a vector effect inside the combustion chamber when flammable vapors are ignited, preventing flames from traveling back through the flame arrestor and outside the water heater. Other features include Resettable thermal switch, virtually maintenance free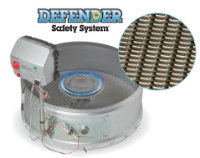 ICON Control System
is included on all Bradford White Residential and Light Duty Commercial Water Heaters. Features of the ICON System include:
Advanced Temperature Control System - A microprocessor constantly monitors and controls burner operation to maintain consistent and accurate water temperature levels
Exclusive Performance Software
Intelligent Diagnostics for installers with status indicator
Pilot-On-Indication
Millivolt Powered - No external electricity required
Separate Immersed Thermowell - No need to drain the tank when removing or replacing the gas valve
Integrated Piezo Igniter
Hydrojet® Total Performance System:
The Hydrojet® Total Performance System is a cold-water inlet tube that was especially engineered to reduce costly sediment buildup and create more thorough mixing of incoming water with stored water. Because of more efficient mixing, extreme temperature differences throughout the tank are greatly reduced. Water Heaters with the Hydrojet Total Performance System don't have to work as hard or as often to maintain a maximum supply of hot water at the desired temperature. They heat water faster and use less energy to do it. And, it's standard equipment on all Bradford White top connect residential water heaters.
Vitraglas® The World's Best Enamel Tank Lining:
Bradford White water heater tanks are protected from the corrosive effects of hot water by an exclusive enamel lining. The exclusive Vitraglas enamel lining is uniquely formulated and applied to the interior of the water heater tank.
Our test results prove that Vitraglas provides unsurpassed protection against failure when compared to other water heater linings.
Standard Features:


Advanced ScreenLok® Technology Flame Arrestor design
Resettable thermal switch
Maintenance free
Pedestal base
Sight window
Factory installed Hydrojet® Total Performance System - Cold water inlet sediment reducing device helps prevent sediment build up in tank. Increases first hour delivery of hot water while minimizing temperature build up in tank.
3" x 4" Snap-Lock draft diverter
T&P relief valve
Brass drain valve
1" non-CFC foam insulation

ICON Features:

Enhanced Performance
Advanced Temperature Control System
Intelligent Diagnostics
Pilot On Indication
Green LED
Separate Immersed Thermowell

Atmospheric Venting- venting is through the roof
Dimensions:

A - Floor to Exhaust Connection: 60-1/8"
B - Jacket Dimensions: 20"
C - Vent Size: 3" x 4"
D - Floor to T&P Connection: 49-15/16"
E - Floor to Gas Connection: 13"
F - Floor to Water Connection: 57-3/8"
G - Depth: 23-1/2"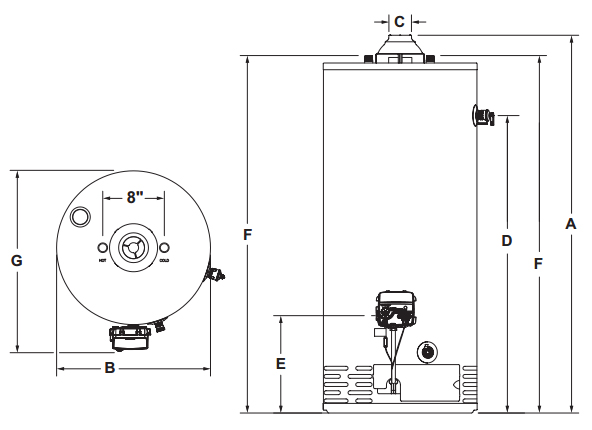 This water heater is not certified for commercial use in Texas, or residential use in Utah, or the following air quality districts in California:
Bay Area AQMD (Reg 9, Rule 6)
Sacramento Metropolitan AQMD (Rule 411)
San Joaquin Valley APCD (Rule 4902)
Santa Barbara County APCD (Rule 352)
South Coast AQMD (Rule 1146)
Ventura County AQMD (Rule 74-11)
Yolo-Solano AQMD (Rule 2.37)
Tech Specs
General Features
Rated Nominal Volume (Gallons):
50
DOE Rated Storage Volume (Gallons):
48
Fuel Type:
Natural Gas (NG)
Energy Star:
No
Connectivity:
Not WiFi Compatible
Weights and Dimensions
Overall Height (in.):
60.125
Height (Floor To Top of Heater - in.):
56.625
Overall Depth (in.):
23.5
Jacket Diameter (in.):
20
Weight (lbs.):
150
Performance
BTU Input:
34000
First Hour Delivery Rating (Gal.):
75
Uniform Energy Factor (UEF):
0.63
Recovery at 90°F Rise (GPH):
37
Recovery Efficiency:
up to 80%
Venting and Connection Requirements
Venting:
Atmospheric
Vent Size (in.):
3" or 4"
Water Connection Size (in.):
3/4" NPT
Gas Connection Size (in.):
1/2"
California residents see Prop 65 WARNINGS
WARNING!
Warning: Cancer and Reproductive Harm - www.p65warnings.ca.gov
Product Warranty
6 Year Limited Warranty on Tank and Component Parts