You may want to consider a new hot water heater before the old one gives out. After about 10 - 15 years of service sediment build-up and corrosion inside the tank can take their toll. If you live in a mobile home, this direct vent water heater is designed in accordance with HUD and is certified for installation in a manufactured or mobile home only. It must be installed in an enclosure that will completely separate the water heater combustion and venting system from the interior of your home.

The Bradford White RG2DVMH40T6X is a 40 gallon direct vent hot water heater. It uses a 3 inch vent and new installations also require a roof jack kit (please call for availability). All exhaust is vented directly to the outside by means of the roof jack.
This tank is 57 1/4" from the floor to the top of the heater. The jacket diameter is 20" wide. This hot water heater features an input of 30,000 BTUs, and has a First Hour Rating or First Hour Delivery of 59 gallons.
The Energy Factor (EF) is used to determine the energy efficiency of the hot water heater. Recover efficiency, stand-by loss and cycling loss are all included in the energy factor. Typically, the higher the energy factor, the more efficient the water heater. Cost of fuel however, will have an impact on annual operating costs.
Basically, the First Hour Rating means how much hot water the hot water heater can deliver in an hour of use, starting with a fully heated tank. It does not mean that the hot water will last for one hour. As the cold water enters the tank it is heated, the faster you use your hot water, the faster your water will become tepid and then cold. However, depending on your temperature set point and your household's water use you can calculate how much hot water you need during your busiest hour. As you use the water in the tank, it is continuously being replenished and heated.
An example of a 59 gallon peak demand might look like this:
3 showers (10 x 3 = 30 gallons)
3 hand dishwashing (4 x 3 = 12 gallons)
1 meal prep (4 x 1 = 4 gallons)
1 dishwasher run (6 x 1 = 6 gallons)
1 load of laundry (7 x 1 = 7 gallons)
This household would probably want a hot water heater with a first hour rating of between 57 and 61 gallons.
Another important feature when choosing a hot water heater is the Recovery Rise. A 90° recovery rise for this tank is about 32 minutes. In other words, when the cold water enters the hot water tank, it will take about a half an hour to rise 90° inside the tank. All Bradford White hot water heaters are NAECA Compliant.
Vitraglas® The World's Best Enamel Tank Lining:
Bradford White water heater tanks are protected from the corrosive effects of hot water by an exclusive enamel lining. The exclusive Vitraglas enamel lining is uniquely formulated and applied to the interior of the water heater tank.
Our test results prove that Vitraglas provides unsurpassed protection against failure when compared to other water heater linings.
Dimensions:

A - Floor to Top of Heater: 57 1/4"
B - Jacket Dimensions: 20"
C - Vent Size: 3"
D - Floor to T&P Connection: 50 1/4"
E - Floor to Gas Connection: 13 3/4"
F - Floor to Cold Water Connection: 22 1/2"
G - Floor to Hot Water Connection: 57 1/2"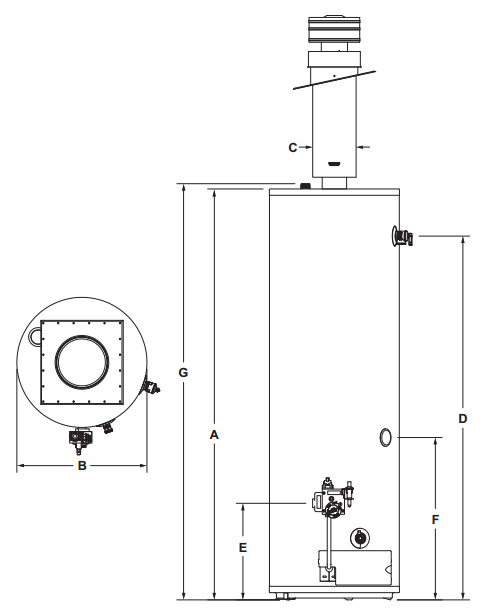 This water heater is not certified for commercial use in Texas, or residential use in Utah, or the following air quality districts in California:
Bay Area AQMD (Reg 9, Rule 6)
Sacramento Metropolitan AQMD (Rule 411)
San Joaquin Valley APCD (Rule 4902)
Santa Barbara County APCD (Rule 352)
South Coast AQMD (Rule 1146)
Ventura County AQMD (Rule 74-11)
Yolo-Solano AQMD (Rule 2.37)
Capacity (Gallons):

40

Fuel Type:

Liquid Propane (LP)

BTU Input:

30000

First Hour Delivery Rating (Gal.):

59

Energy Factor (EF):

0.62

Includes Heat Pump:

No

Energy Star:

No

Venting:

Direct Vent

Overall Depth (in.):

20

Jacket Diameter (in.):

20

Overall Height (in.):

57.25

Net Weight (lbs.):

139

Water Connection Size:

3/4" NPT
6 Year Limited Warranty on Tank and Component Parts