Additional dramatic flare can be added to your already beautiful, contemporary fireplace with RH Peterson's Geo Shapes. Available in several shapes and sizes, you can mix and match shapes to add an eye-catching elegance to your Fyre Glass or Fyre Gem fireplace. Geo Shapes are made of high-heat resistant ceramics and are available in ivory, slate and terracotta. The choice is yours. The photos included illustrate only 2 examples of the endless possibilities!
The item sold here will include 2 Large Obelisks. Each obelisk is 9.5" tall and 5" wide at the base. The additional quantities and shapes shown below are to
illustrate color only
. The obelisks are shown in terracotta, the pyramids in ivory and the spheres in slate.
Terracotta (GEO-OT-2)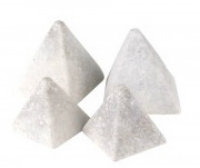 Ivory (GEO-OI-2); Pyramid shape shown for color only.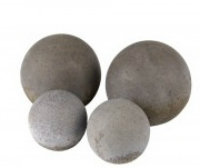 Slate (GEO-OS-2); Sphere shape shown for color only.
Several other shape options are available. These include Pyramids (GEO-P), Geo Domes (GEO-H), Geo Tetras (GEO-T), Geo Diamonds (GEO-D), Cones (GEO-C) and Spheres (GEO-S). Shapes are available in sets of 2 large shapes only (sold here), a set of 4 which includes 2 large and 2 small shapes and a set of 2 small shapes only. The obelisk is only available as a set of 2 large. If there is a shape and color you would like in any other set option, please call Customer Service at (877) 847-0050. A representative will gladly assist you.