Product Overview
Enrich your indirect cooking experience by using the heat deflector plates. Simply set both on the drip pan racks* to transform your grill into an oven or low temperature smoker. The heat deflectors sit below the grill racks, deflecting the heat from the coals below, keeping your grill hot, while keeping any flames away from your foods.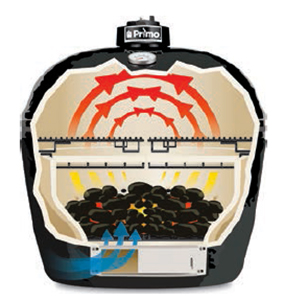 The Primo Deflector Plates are used in conjunction with the Primo Heat Deflector/Drip Pan Racks. Use of the ceramic deflector plates allows you to cook on your Primo grill using indirect heat, turning your grill into an oven, roaster or smoker. Primo PG00326 comes in set of 2 and is for use with your Primo Oval LG 300 grill.
*As shown in photo, deflector plates are set on top of the required Heat Deflector/Drip Pan Racks. The drip pan racks required for the PG00326 deflector plates is PG00316 (sold separately).
"The Primo Authorized Dealer seal is the intellectual property of Creative Ceramic Technologies, Inc. and is used with permission per the required MAP agreement. All rights reserved."