FOR COMMERCIAL USE ONLY - 460 VOLTS
The High Velocity 2 Series (HV2) of Mars Air Doors features 1 horsepower motors for efficient wind loads up to 14 ft. high and offers a variety of lengths to provide an environmental barrier at that height. It can also protect your space from insects up to 12 feet.
This heated, air door is available in 460 volt,3 phase power supply, for commercial use. It is easy to install and features durable metal construction and a corrosion resistant powder coated Titanium Silver finish. A variety of lengths from 48" to 144" is available. Some sample installation applications include shipping/receiving doors, customer entrances, cold storage rooms and many more. Ideal exterior installation height is 10' - 12' and interior installation is 12' - 14' for the HV2 series. Units 72" to 96" feature a 2- motor design, while the 108" - 144" have a 3-motor design. The 120" unit is also available in a 2-motor design. Please call Customer Service for pricing and lead time. All HV2 units ship as a single unit, regardless of length.
The profile of the HV2 is not considered low profile at 14" high and just over 21" deep.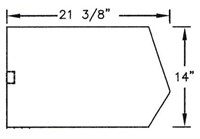 To make your selection easier, the chart below lays out all the optional lengths available for the High Velocity 2 air curtain. Simply choose your length based on your installation requirements. The HV2 heated air curtain includes an internal control panel.
| Model | Length | Motor/HP | Voltage/Phase | kW | Sound (dBA) | Full Load Amps | Volume | Weight |
| --- | --- | --- | --- | --- | --- | --- | --- | --- |
| HV248-1EHH-TS | 48" | 1 Motor; 1 HP | 460/3 | 12 | 70 | 17 amps | 2447 CFM | 145 lbs |
| HV260-1EHH-TS | 60" | 1 Motor; 1 HP | 460/3 | 12 | 70 | 17 amps | 2760 CFM | 155 lbs |
| HV272-2EHN-TS | 72" | 2 Motors; 1 HP each | 460/3 | 24 | 73 | 34 amps | 3584 CFM | 315 lbs |
| HV284-2EHN-TS | 84" | 2 Motors; 1 HP each | 460/3 | 24 | 73 | 34 amps | 4644 CFM | 335 lbs |
| HV296-2EHN-TS | 96" | 2 Motors; 1 HP each | 460/3 | 24 | 73 | 34 amps | 4894 CFM | 340 lbs |
| HV2108-3EHS-TS | 108" | 3 Motors; 1 HP each | 460/3 | 36 | 75 | 50 amps | 5376 CFM | 425 lbs |
| HV2120-3EHS-TS | 120" | 3 Motors; 1 HP each | 460/3 | 36 | 75 | 50 amps | 6693 CFM | 440 lbs |
| HV2144-3EHS-TS | 144" | 3 Motors; 1 HP each | 460/3 | 36 | 75 | 50 amps | 7341 CFM | 465 lbs |
Max. Door/Window Height (ft.):

14

Max. Height Insect Block (ft.):

12

Heat:

Yes

Horsepower:

1

Voltage:

460V

Depth (in.):

21.375

Height (in.):

14

Certifications:

ETL Listed

Parts Warranty:

18 Months

Product Type:

Heated