Developed to provide high output and a huge volume of water, The Bradford White Commercial Electronic Ignition Induced Draft, Atmospheric Vent Water Heaters, deliver! The D100T1993N provides a 98 gallon capacity
The Bradford White D100T1993N is a 98 gallon, tall, hot water heater. It features a flue damper to help reduce stand-by heat loss. It is a taller tank with a top vent height of 83 3/8" and a jacket diameter of 28 1/4". The D100T1993N has 2" Non-CFC foam insulation. It features an impressive BTU input of 199,999 BTUs. Great for smaller commercial needs.
The hot water heater features an electronic ignition to ignite the pilot, saving pilot gas during stand-by times, while the automatic flue damper also reduces stand-by loss while improving efficiency. Temperature adjustability on this hot water heater is up to 180°F / 82°C. With temperature settings up to 180°F this hot water heater also offers Sanitizing Capabilities.
ICON HD Commercial Control System
features temperature control, diagnostic codes and ignition functions all on a single, digital LCD control board with a tilt down cover for east of wiring and service.
Hydrojet® Sediment Reduction System: Cold-water inlet specially engineered to reduce costly sediment buildup.

Vitraglas® The World's Best Enamel Tank Lining: Bradford White water heater tanks are protected from the corrosive effects of hot water by an exclusive enamel lining. The exclusive Vitraglas enamel lining provide superior protection. It is uniquely formulated and fused to the interior of the water heater tank.
A hand hole cleanout is provided for inspection of the tanks interior and removal of sediment.
Dimensions:

A - Top Vent Height: 83 3/8"
B - Jacket Diameter: 28 1/4"
C - Vent Diameter: 6"
D - Front Hot Water Connection: 67"
E - Floor to Gas Connection: 4 3/4"
F - Front Cold Water Connection: 19 1/2"
H - Floor to Top of Heater: 75 1/2"
J - Floor to Top of Water Connection: 77 1/4"
Water Connection: 1 1/2"(T&F)
Gas Connection: 3/4"
Relief Valve Opening: 3/4"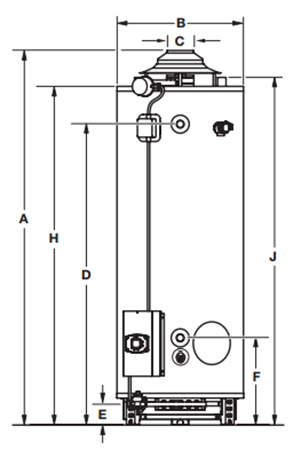 This water heater is not certified for commercial use in Texas, or residential use in Utah, or the following air quality districts in California:
Bay Area AQMD (Reg 9, Rule 6)
Sacramento Metropolitan AQMD (Rule 411)
San Joaquin Valley APCD (Rule 4902)
Santa Barbara County APCD (Rule 352)
South Coast AQMD (Rule 1146)
Ventura County AQMD (Rule 74-11)
Yolo-Solano AQMD (Rule 2.37)
Capacity (Gallons):

98

Fuel Type:

Natural Gas (NG)

BTU Input:

199999

Includes Heat Pump:

No

Energy Star:

No

Venting:

Atmospheric

Overall Depth (in.):

28.25

Overall Height (in.):

83.375

Overall Width (in.):

28.25

Net Weight (lbs.):

610

Water Connection Size:

1.5" NPT
3 Year Limited Warranty on Tank and Component Parts