The Nuheat Floor Heating Mats are easy to install and are available in just about any size you may need. Radiant floor heat may be the most cost efficient way to warm hard-to-heat areas of your home or any area! Imagine getting out of bed on the cold winter mornings and stepping onto a toasty warm floor. And since the entire floor is heated, an even heat, with no cold spots, will rise to meet you providing comfort wherever you are. Heated flooring may be the best thing you do for you and your home!
Before remodeling, consideration should certainly be given to installing a radiant floor heating system. Whether you are planning on installing tile, stone, marble, laminate or engineered wood floors, a Nuheat Floor System can be installed. There are no ducts or drafts to worry about with floor heat and once floor heat is installed, there will be no additional dust or allergens often accompanied by a furnace.
The Nuheat electric floor heating mats are almost all DIY - an electrician is needed to install a dedicated line. If your room already has a dedicated line and you are well versed in electrical installations, you may not need an electrician. Simply lay your thinset, roll out and press the Nuheat mat right onto the thinset, apply another layer of thinset and install your flooring. Of course, there are small interim steps but overall the installation is pretty straightforward. The biggest thing to worry about is making sure the electrical line that will be attached to the thermostat is coming up in the right place in your room!
Nuheat floor mats come with the heating wire pre-laid and completely sandwiched between very thin, durable and porous layers of fabric. Radiant floor heat is an excellent source for supplemental heat in any room, large or small. Nuheat electric floor heating mats are offered in many standard widths and several varying lengths. Floor mats are offered in 120 volt and 240 volt. Standard mats are square or rectangular. 120 Volt mats range in size from 3.5 ft. to 10 ft. lengths and 240 Volt mats range from 5 ft up to 20 ft. The Nuheat radiant floor mats are perfect for any size job from small bathrooms to larger kitchens, living rooms, bedrooms and every room in between.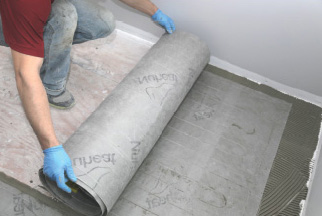 Whether you are remodeling an entire house, a bathroom, a kitchen or even finishing a basement, the Nuheat Floor Heating System may be exactly what you need! A Nuheat Floor System can be installed for use under tile, stone, marble, laminate or engineered wood floors. Nuheat floor mats offer an invisible, maintenance-free heating solution. Each room will also require a thermostat.
As we all know, heat rises. The best way to heat a room is from the floor up. With a Nuheat underfloor, radiant heating mat, achieving this could not be easier. It's like walking on floor that has an electric blanket under it to keep you cozy! Nuheat is not your typical radiant floor heating system. Installing Nuheat Floor Mats is just a few steps more than simply unrolling it - there is no need to lay row after row of wire or cable. The Nuheat radiant floor system can be laid in any direction so if the width and length don't match your needs you can turn it around. Additionally, a second mat can be added if your room layout is not a perfect square or rectangle. The 3.5 ft Series Heating Mat measures 40" x 27" but can just as easily be considered 27" x 40"! That is approximately 7.5 square feet of heated floor space. The entire Nuheat Mat Size Chart includes all of the various sizes including the Voltage, Dimensions, Square Footage, Ohms, and Amps .
Nuheat can be laid in any direction so if the width and length don't match your needs, you can turn it. If your initial configuring above yields an unavailable width/length combination, try switching the measurements. For example if you are looking for a 48" length by 40" width, flip it around and put in 40" length x 48" width. This will give you a good combination! If your room's layout is more complex than a basic square or rectangle, you can lay more than one mat side by side, and still have it controlled by the same thermostat (up to the 15 amp limit of the thermostat). All mats connect to the thermostat, not to each other. DO NOT EVER CUT A NUHEAT MAT TO FIT YOUR SPACE.
If you have special room needs, perhaps an island in your kitchen or your floor's footprint is oddly shaped, Nuheat even offers custom mats. You need to provide them with a hand drawn floor plan with your requirements and they will work with you to build your custom floor mat (custom floor mats require 2 weeks from drawing approval and are non-returnable). If you are interested in a Custom Nuheat Floor System, please contact Customer Service at 877-847-0050 or send them an email at support@totalhomesupply.com for further information.
1/8" thick mat
Easy Installation
10 ft lead (attached) to thermostat (thermostat sold separately)
Consistent wire spacing reducing heating irregularities/eliminating cold spots
Energy efficient - up to 12 watts/sq. ft.; 41 BTUs/ sq. ft.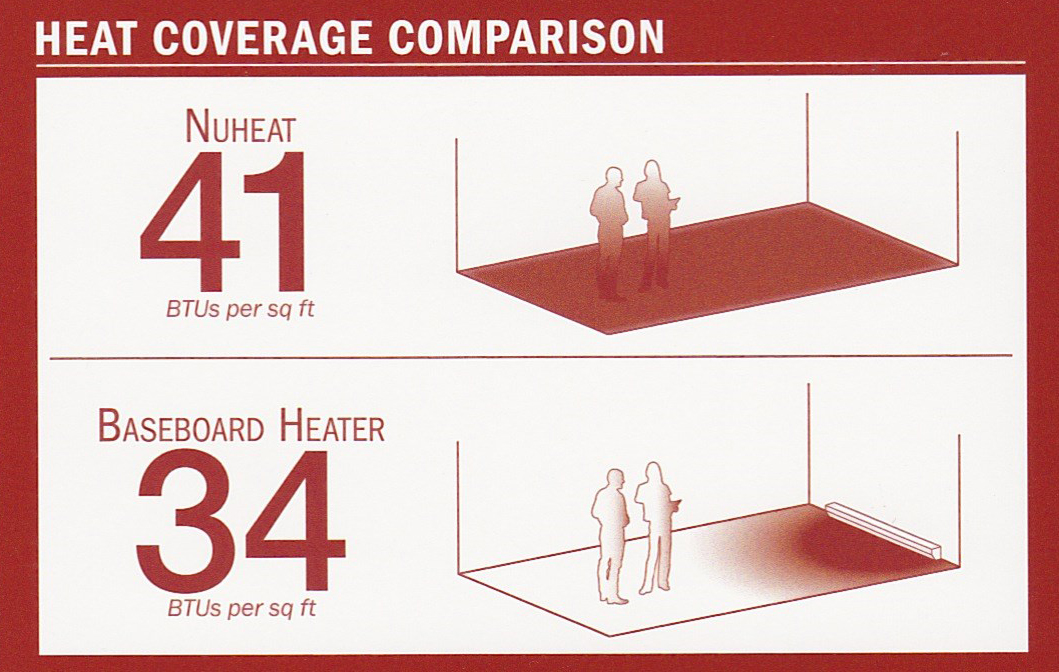 Can be installed under various floor surfaces including tile, stone (Including marble and granite), laminate and engineered wood
Thermostat required; several varieties available
25 year warranty
Warranty:

25 Year Limited
25 Year Limited