When was the last time you even looked at your hot water heater? Hot water should not be something we take for granted. We all know when we turn on the faucet the hot water comes out and we wash up, clean our dishes or jump in the shower! Then one day BBRRR - no hot water. A conventional storage tank water heater will last only about 10 to 15 years. You do not want the cold water of a morning shower to be your wake up call! Today may be the day you decide to replace your water heater.
This 240 Volt/4500 Watt, 50 gallon AeroTherm Heat Pump hot water heater is an efficient way of getting hot water year round. It measures 73 1/2 inches high from the floor to the water connection and 25" wide. It has 2" of non-CFC foam insulation covering the sides and top of the tank, reducing heat loss, resulting in less energy consumption, improved operation efficiencies and jacket rigidity. The AeroTherm Heat Pump Hot Water Heater is Energy Star Qualified and includes 4 operating modes - heat pump mode, hybrid mode, electric mode and vacation mode and easy to read smart controls.
An important feature when choosing a hot water heater is the Recovery Rise. A 90° recovery rise for this tank is about 21 minutes. In other words, when the cold water enters the hot water tank, it will take just about 20 minutes to rise 90° inside the tank. The operating air temperature range for this hot water heater is between 35°F and 120°F. When air temps are outside of this range, your unit will operate in Standard Electric Mode.
The Energy Factor (EF) is used to determine the energy efficiency of the hot water heater. Recover efficiency, stand-by loss and cycling loss are all included in the energy factor. Typically, the higher the energy factor, the more efficient the water heater. Cost of fuel however, will have an impact on annual operating costs.
Dimensions:

A - Floor to Heater Top: 59 1/8"
B - Jacket Diameter: 21 3/4"
C - Floor to Water Connection: 60 3/4"
D - Distance Between Water Connection: 8"
E - Floor to Condensate Connection: 46 3/4"
F - Floor to T&P Connection: 38 3/4"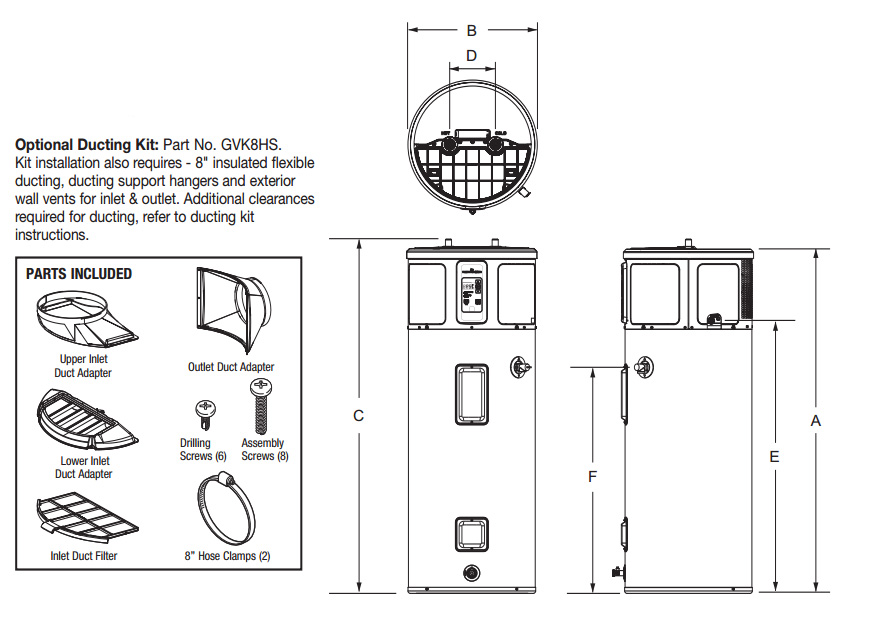 Capacity (Gallons):

80

Fuel Type:

Electric

First Hour Delivery Rating (Gal.):

94

Energy Factor (EF):

3.39

Includes Heat Pump:

Yes

Energy Star:

Yes

Venting:

Non-Vented

Amps:

30

Overall Depth (in.):

25

Overall Height (in.):

73.5

Overall Width (in.):

25

Voltage:

208-230V

Net Weight (lbs.):

195

Water Connection Size:

3/4" NPT
10 Year Limited Tank and Parts Warranty